Anyone can audition. Check back regularly for updates and new announcements!
A Special Combined Audition
Dog Sees God                      Constellations
by Bert V. Royal                  by Nick Payne
        Director: James Bryan                Director: Leigh Strenger
Performance Dates
Dog Sees God: Jan. 10 –  Jan. 26
Constellations:  Feb. 7 – Mar. 1
Performances are Thursdays, Fridays, Saturdays at 8:00pm, and Sunday matinees at 2:30pm
REQUIRED: All cast & crew rehearse Tech Week
Tech Week – Dog Sees God: Wed., Jan 1st (6pm – 9pm); Thurs., Jan. 2nd (6pm – 10pm); Sat., Jan. 4th (12pm – 6pm) Sun., Jan. 5th (12pm – 6pm), Mon., Jan. 6th (6pm – 11pm), Tues., Jan. 7th (6pm – 11pm), Wed., Jan. 8th (6pm – 11pm), Thurs., Jan. 9th (6pm – 11pm).
Tech Week – Constellations: Mon., Jan 13th (6pm – 10pm); Tues., Jan. 14th (6pm – 10pm); Wed., Jan. 15th (6pm – 10pm); Mon., Jan 20th (6pm – 10pm); Tues., Jan. 21st (6pm – 10pm); Wed., Jan. 22nd (6pm – 10pm); Mon., Feb. 3rd (6pm – 11pm), Tues., Feb. 4th (6pm – 11pm), Wed., Feb. 5th (6pm – 11pm), Thurs., Feb. 6th (6pm – 11pm).
Audition Dates
Rehearsal Schedule
Rehearsals will be scheduled around cast availability but are typically Monday – Thursday evenings [7:00pm – 9:30pm] and Saturdays mornings [10:00am – 2:00pm].
Note: Rehearsals will accommodate for holidays (bring conflicts).
If you have any scheduling conflicts during the rehearsal dates, please note them on your audition form at auditions.
E-mail questions to contact [at] generictheater [dot] org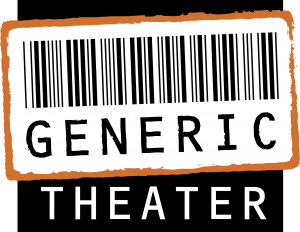 Synopsis
Dog Sees God: When CB's dog dies from rabies, CB begins to question the existence of an afterlife. His best friend is too burnt out to provide any coherent speculation; his sister has gone goth; his ex-girlfriend has recently been institutionalized; and his other friends are too inebriated to give him any sort of solace. But a chance meeting with an artistic kid, the target of this group's bullying, offers CB a peace of mind and sets in motion a friendship that will push teen angst to the very limits. Drug use, suicide, eating disorders, teen violence, rebellion and sexual identity collide and careen toward an ending that's both haunting and hopeful. Note: No one under 18 will be allowed to audition for this production. [Presented through arrangement with Dramatists Play Service.]
Constellations: This spellbinding, romantic journey begins with a simple encounter between a man and a woman. But what happens next defies the boundaries of the world we think we know—delving into the infinite possibilities of their relationship and raising questions about the difference between choice and destiny. [Presented through arrangement with Dramatists Play Service.]
Preparation
Generic Theater is seeking NON UNION actors of all ethnicities to fill a cast of approximately 4 men and 4 women for Dog Sees God and 1 man and 1 woman for Constellations to portray all roles (see below).
Headshots and resumes are encouraged but not required. Auditioners will be asked to read sides from the subject plays provided. All ethnicities are encouraged to audition (color blind casting).
Those auditioning are asked to provide all conflicts they may have through March 1, 2020.
______________________________________________________________________________________
If you have questions about the auditions or the rehearsal process, email sstacy [at] generictheater [dot] org.
______________________________________________________________________________________
Times & Locations
Monday, October 14, 7pm – Generic Theater*
Tuesday, October 15, 7pm – Generic Theater*
Wednesday, October 16, 7pm – Generic Theater*

Callbacks: Saturday, October 19, 10am – Scope Ex Hall Lobby**
*Generic Theater – Enter the Scope Parking Garage. Drive down to the lower parking level. At the end of the ramp you can either turn left or hit a wall. Turn LEFT at the end of the ramp. Drive down until you reach another wall. Again, you can either turn left or hit the wall. Turn LEFT. See the double doors to the theater on your right.
**Scope Exhibition Hall Lobby – The Scope Ex Hall Lobby is located just inside the mouth of the Scope Parking Garage. Enter the garage, go through the ticket gate, within 15′ look to your RIGHT and see a line of glass doors. There will be signage. Enter one of those doors to get to the auditions. 
Notes About the Audition
CHARACTER BREAKDOWNS:
Dog Sees God:
CB (Charlie Brown) Male – Now muscular and attractive; deeply saddened by the death of his dog, he desperately seeks confirmation of an afterlife where he can be with his lost friends again; goes from quiet and disillusioned to angry emotional outbursts in a second; must be comfortable with kissing the same sex. Basic piano skills a big plus.
CB's Sister (Sally Brown) Female – In constant search of an identity, she tries out just about every identity she can think of, from Wiccan goth to "gangsta bitch"; her relationship with her brother is challenged by his relationship with her crush, Beethoven.
Van (Linus) Male – A complete stoner, brags about having smoked his childhood blanket; his friends suggest all the smoking has made him stupid; he doesn't necessarily disagree; he does, however, manage to put a lot of things together the rest of his friends can't.
Matt (Pig Pen) Male – Notably attractive; now a complete germaphobe, he is sensitive to a point of extreme volatility over his old nickname and reputation for living in filth; he is extremely homophobic, and hates Beethoven for "seeming gay"; he holds on to CB being his best friend for dear life, and is extremely threatened by CB's relationship with Beethoven; it is implied that Matt is suppressing his own homosexual feelings for CB.
Beethoven (Schroeder) Male – His effeminate nature and passion for music, has labeled him as gay in the eyes of his peers; he is constantly, violently bullied for his assumed sexuality; he avoids everyone at his school and dives into his piano practice as the only thing that makes him happy; CB's sexual advances change everything for him, not necessarily for the better; must be comfortable with kissing the same sex. Advanced piano skills are a plus.
Tricia (Peppermint Patty) Female – Notably attractive; has grown to be very beautiful, she now considers herself to be the prettiest, most popular girl at school; always attached to her best friend Marcy; she is often drunk (even at school), behaves like a ditz, and her deep insecurities about her popularity and attractiveness come out in an obsessive hatred towards a "fat" girl named Frieda.
Marcy (Marcie) Female – Is attached at the hip to her best friend Tricia. She still has the same heightened intelligence of her youth, but hides it behind a "popular chick's sidekick" persona, always trying to mimic Tricia's mannerisms and personality to fit in; really wants to sleep with CB, but will also happily take Matt, or anyone for that matter.
Van's Sister (Lucy) Female – She is now institutionalized for setting the "Little Red-Headed Girl's" hair on fire; provides CB with some much-needed amateur therapy, just like old times; despite the circumstances the play finds her in, she somehow seems to be the most psychologically sound of all the characters.
Constellations:
Roland (male) mid 20's- 30's, a beekeeper, the more soft spoken and understated of the two, sometimes a bit awkward. Though he is more reserved he cares deeply for Marianne and it shows.
Marianne (female) mid 20's- 30's, a cosmologist, brilliant and more outgoing. She sometimes uses her sense of humor to lighten the mood. She is an expert in "theoretical early universe cosmology" and believes there are multiple universes that pull our lives in different directions. Her belief is reflected in the structure of the play.
Constellations follows the romance between Roland and Marianne starting with their chance meeting at a party and plays out over the course of several life times in several alternate universes. The play examines how our lives could be different under slightly different circumstances and questions what in our life is choice and what is destiny. The story plays out through repeated scenes with different outcomes.
The play is set in England so both characters will have British accents. Because we see several different versions of the characters throughout the play the actors will have the opportunity so show the many different facets and moods of the characters. All ethnicities are encouraged to audition.
Please email any questions or concerns to sstacy [at] generictheater [dot] org.
Break a leg!
Frequently Asked Questions
So you're interested in auditioning and not sure what to expect. Here are some the more common questions we receive. If we do not have the answer to your question here on this website then please send us an email at contact [at] generictheater.org. Remember the most important thing about auditioning at the Generic Theater is that you have Fun.
How do I get the latest details or ask questions?
In the main audition description, there is typically contact information for the director or their designated preferred contact. But the best place to go is our Facebook page. "Like" us for any general updates:
More specifically, there is usually a Facebook event created for each audition, so that is a great place to go and ask questions, which we encourage as the answers will also help other people!
If all else fails, email our main address contact [at] generictheater.org, but be advised occasionally there can be a delay if the team is busy; we're volunteers!
Who can audition?
Ready for this… ANYONE can audition.
Do I need a head shot?
Headshots and resumes are strongly encouraged but not required.
What should I bring?
Most auditions are first come first serve. If pre-registration is an option, it will be noted in the description. Bring your headshot and resume (encouraged but not required), any sheet music for musical auditions, and a list of potential conflicts with you at the determined check-in time.
How do I prepare?
Electronic scripts are sometimes available for you to peruse; check above. If so, this will provide you an opportunity to get to know and understand the character(s) that you wish to audition for. We also encourage you to do a search online to better understand the script, and if you're really serious, buy and read your own copy. Please contact us using the information in the audition notice if you are interested in perusing a copy of the script.
What should I expect?
Toggle content goes here, click edit button to change this text.