Anyone can audition. Check back regularly for updates and new announcements!
A Funny Thing Happened on the Way to the Gynecologic Oncology Unit at Memorial Sloan Kettering Cancer Center of New York City
by Halley Feiffer
Presented through arrangement with Dramatists Play Service Inc.
Director: Kelly Gilliam
Assistant Director: Stephanie Corbin
Stage Manager: Tiffany Wagner
Performance Dates
March 1 – 17
Performances are Thursdays, Fridays, Saturdays at 8:00pm, and Sunday matinees at 2:30pm
Audition Dates
Rehearsal Schedule
Rehearsals will be scheduled around cast availability but are typically Monday – Thursday evenings and one weekend day.
If you have any scheduling conflicts during the rehearsal dates, please note them on your audition form at auditions.
E-mail questions to contact [at] generictheater [dot] org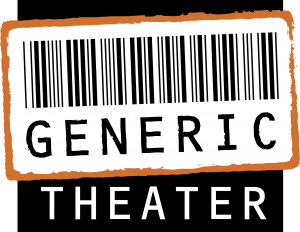 Synopsis
A foul-mouthed twenty-something comedian and a middle-aged man embroiled in a nasty divorce are brought together unexpectedly when their cancer-stricken mothers become roommates in the hospital. Together, this unlikely duo must negotiate some of life's biggest challenges…while making some of the world's most inappropriate jokes. Can these two very lost people learn to laugh through their pain and lean on each other, when all they really want to do is run away?
Preparation
Generic Theater is seeking NON UNION actors to fill all 4 roles (see below).  Headshots and resumes are encouraged but not required.  Be prepared to provide all scheduling conflicts through March 17. Auditions will consist of readings from the script.  If you have questions about the auditions or would like a copy of the audition sides you may contact the director at kodagirl [at] yahoo [dot] com.
See below for role descriptions and sides.
Notes About the Audition
CHARACTER BREAKDOWNS:
CHECK BACK for CHARACTER DESCRIPTIONS
Please email any questions or concerns to kodagirl [at] yahoo [dot] com.
Break a leg!
Frequently Asked Questions
So you're interested in auditioning and not sure what to expect. Here are some the more common questions we receive. If we do not have the answer to your question here on this website then please send us an email at contact [at] generictheater.org. Remember the most important thing about auditioning at the Generic Theater is that you have Fun.
How do I get the latest details or ask questions?
In the main audition description, there is typically contact information for the director or their designated preferred contact. But the best place to go is our Facebook page. "Like" us for any general updates:
More specifically, there is usually a Facebook event created for each audition, so that is a great place to go and ask questions, which we encourage as the answers will also help other people!
If all else fails, email our main address contact [at] generictheater.org, but be advised occasionally there can be a delay if the team is busy; we're volunteers!
Who can audition?
Ready for this… ANYONE can audition.
Do I need a head shot?
Headshots and resumes are strongly encouraged but not required.
What should I bring?
Most auditions are first come first serve. If pre-registration is an option, it will be noted in the description. Bring your headshot and resume (encouraged but not required), any sheet music for musical auditions, and a list of potential conflicts with you at the determined check-in time.
How do I prepare?
Electronic scripts are sometimes available for you to peruse; check above. If so, this will provide you an opportunity to get to know and understand the character(s) that you wish to audition for. We also encourage you to do a search online to better understand the script, and if you're really serious, buy and read your own copy. Please contact us using the information in the audition notice if you are interested in perusing a copy of the script.
What should I expect?
On the night of auditions, we ask that you arrive 15 minutes early to give you ample time to complete a short questionnaire. The questionnaire is designed to let our directors get to know you and your acting strengths. Upon completing the questionnaire, you will be asked to wait in a designated waiting area until you are called into the theater to meet the director. The director may choose to speak with you one-on-one or with small groups. You will usually 'cold read' samples taken from the script. You may be asked to read multiple times with different groups of actors. For musicals or plays containing singing, you will be asked to provide a vocal sample; check above for details. Auditions typically run for two days with a third day reserved for call backs, or in some cases for three days with a weekend callback. Call backs require additional readings from the script and may involve other actors. This is a mere guideline into what you may expect during an audition. Auditions are conducted by the director, so dates and times may fluctuate. Please check the website for the current dates and times of the production you wish to participate. The only hard rule we have at the Generic Theater is have FUN.