Anyone can audition. Check back regularly for updates and new announcements!
Chess
Music by Benny Andersson & Björn Ulvaeus
Lyrics by Tim Rice & Björn Ulvaeus
Presented through arrangement with Samuel French, Inc.
Director: Shon M. Stacy
Music Director: Karla Robinson
Stage Manager: Suzie Finnerty
Performance Dates
June 28 – July 21
Performances are Thursdays, Fridays, Saturdays at 8:00pm, and Sunday matinees at 2:30pm
REQUIRED: All cast & crew rehearse Tech Week, which is Sat., June 22nd (12pm – 6pm), Sun., June 23rd (12pm – 6pm), Mon., June 24th (7pm – 11pm), Tues., June 25th (7pm – 11pm), Wed., June 26th (7pm – 11pm), Thurs., June 27th (7pm – 11pm).
Audition Dates
Rehearsal Schedule
Rehearsals will be scheduled around cast availability but are typically Monday – Thursday evenings and one weekend day.
If you have any scheduling conflicts during the rehearsal dates, please note them on your audition form at auditions.
E-mail questions to sstacy [at] generictheater [dot] org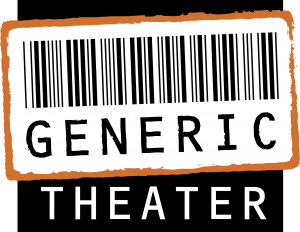 Synopsis
In this musical, the ancient game of Chess becomes a metaphor for romantic rivalries, competitive gamesmanship, super-power politics, and international intrigues. The pawns in this drama form a love triangle: the loutish American chess star, the earnest Russian champion, and a Hungarian American female assistant who arrives at the international chess match in Bangkok with the American, but falls for the Russian. From Bangkok to Budapest the players, lovers, politicians, and spies manipulate and are manipulated to the pulse of a monumental rock score that includes "One Night in Bangkok" and "Heaven Help My Heart."
Preparation
Generic Theater is seeking NON UNION actors to fill multiple roles (see below).  Headshots and resumes are encouraged but not required.  Be prepared to provide all scheduling conflicts through July 21, 2019.  Auditioners are asked to prepare 36 bars of a song that best showcases their voice. Sheet music for an accompanist is requested. If you have questions about the auditions, email the director at sstacy [at] generictheater [dot] org.
Times & Locations
Tentative: Monday, April 1, 7pm – Scope Ex Hall Lobby*
Tentative: Tuesday, April 2, 7pm – Scope Ex Hall Lobby*
Tentative: Wednesday, April 3, 7pm – Scope Ex Hall Lobby*

or by special appointment, email sstacy [at] generictheater [dot] org

Callbacks: TBD
*The Ex Hall Lobby at Scope is located just inside the mouth of the Scope Parking Garage. Enter the garage, go through the ticket gate, within 15′ look to your RIGHT and see a line of glass doors. There will be signage. Enter one of those doors to get to the auditions. 
Notes About the Audition
CHARACTER BREAKDOWNS:
Check back soon for full character descriptions!
Please email any questions or concerns to sstacy [at] generictheater [dot] org.
Break a leg!
Frequently Asked Questions
So you're interested in auditioning and not sure what to expect. Here are some the more common questions we receive. If we do not have the answer to your question here on this website then please send us an email at contact [at] generictheater.org. Remember the most important thing about auditioning at the Generic Theater is that you have Fun.
How do I get the latest details or ask questions?
In the main audition description, there is typically contact information for the director or their designated preferred contact. But the best place to go is our Facebook page. "Like" us for any general updates:
More specifically, there is usually a Facebook event created for each audition, so that is a great place to go and ask questions, which we encourage as the answers will also help other people!
If all else fails, email our main address contact [at] generictheater.org, but be advised occasionally there can be a delay if the team is busy; we're volunteers!
Who can audition?
Ready for this… ANYONE can audition.
Do I need a head shot?
Headshots and resumes are strongly encouraged but not required.
What should I bring?
Most auditions are first come first serve. If pre-registration is an option, it will be noted in the description. Bring your headshot and resume (encouraged but not required), any sheet music for musical auditions, and a list of potential conflicts with you at the determined check-in time.
How do I prepare?
Electronic scripts are sometimes available for you to peruse; check above. If so, this will provide you an opportunity to get to know and understand the character(s) that you wish to audition for. We also encourage you to do a search online to better understand the script, and if you're really serious, buy and read your own copy. Please contact us using the information in the audition notice if you are interested in perusing a copy of the script.
What should I expect?
On the night of auditions, we ask that you arrive 15 minutes early to give you ample time to complete a short questionnaire. The questionnaire is designed to let our directors get to know you and your acting strengths. Upon completing the questionnaire, you will be asked to wait in a designated waiting area until you are called into the theater to meet the director. The director may choose to speak with you one-on-one or with small groups. You will usually 'cold read' samples taken from the script. You may be asked to read multiple times with different groups of actors. For musicals or plays containing singing, you will be asked to provide a vocal sample; check above for details. Auditions typically run for two days with a third day reserved for call backs, or in some cases for three days with a weekend callback. Call backs require additional readings from the script and may involve other actors. This is a mere guideline into what you may expect during an audition. Auditions are conducted by the director, so dates and times may fluctuate. Please check the website for the current dates and times of the production you wish to participate. The only hard rule we have at the Generic Theater is have FUN.