Anyone can audition. Check back regularly for updates and new announcements!
Macbeth
by William Shakespeare
Director: Miguel Girona
Stage Manager: Suzie Finnerty
Performance Dates
October 4 – October 27
Performances are Thursdays, Fridays, Saturdays at 8:00pm, and Sunday matinees at 2:30pm
REQUIRED: All cast & crew rehearse Tech Week, which is Sat., Sept. 28th (12pm – 6pm) Sun., Sept. 29th (12pm – 6pm), Mon., Sept. 30th (6pm – 10:30pm), Tues., Oct. 1st (6pm – 10:30pm), Wed., Oct. 2nd (6pm – 10:30pm), Thurs., Oct. 3rd (6pm – 10:30pm).
Audition Dates
Rehearsal Schedule
Rehearsals will be scheduled around cast availability but are typically Monday – Thursday evenings [7:00pm – 9:30pm] and Saturdays mornings [10:00am – 2:00pm].
If you have any scheduling conflicts during the rehearsal dates, please note them on your audition form at auditions.
E-mail questions to contact [at] generictheater [dot] org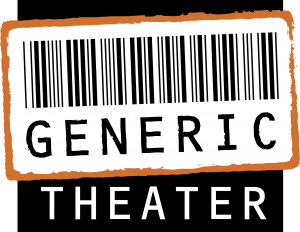 Synopsis
Arguably the darkest play Shakespeare ever wrote, Macbeth explores the inner struggle born of ambition and loyalty, duty and avarice, and even success and guilt. The Warrior and Thane Macbeth has just routed King Duncan's enemies and is rewarded but, the Witches have promised him more. They have prophesied a crown for Macbeth and, when he is passed over for the Kings eldest son his mind turns to what could be and what should be.
Lady Macbeth, still mourning the loss of their only child, seizes upon the prophecy of the witches but understands that Macbeth himself may not see what she knows to be clear. Out of love or loss, her new-found purpose emboldens her to be the strength of will her husband may lack.  Together they embark on their quest to rule regardless of cost.
Free will or predetermination, destiny or manipulation, what is it that points us to whatever end ultimately finds us? Why not ask the Witches?
Preparation
Generic Theater is seeking NON UNION actors of all ethnicities to fill a cast of approximately 12 men and 8 women to portray all roles (see below).
Headshots and resumes are encouraged but not required. Auditioners should prepare a two-minute dramatic Shakespearean monologue NOT from the subject play. This will be followed by cold reads with sides from the subject play provided. Most roles, the Macbeths and Macduffs excepted, will be gender flexible and all ethnicities are encouraged to audition (color blind casting). Please note any stage combat experience, although prior experience is not required.
Those auditioning are asked to provide all conflicts they may have through October 27, 2019.
______________________________________________________________________________________
If you have questions about the auditions or the rehearsal process, email the director at miguelgironajr [at] aol [dot] com.
______________________________________________________________________________________
Times & Locations
Monday, August 5, 7pm – Scope Ex Hall Lobby*
Tuesday, August 6, 7pm – Scope Ex Hall Lobby*
Wednesday, August 7, 7pm – Scope Ex Hall Lobby*

Appointments are preferred, but not required. To schedule an appointment, email miguelgironajr [at] aol [dot] com

Callbacks: Saturday, August 10, 10am – Scope Ex Hall Lobby*
*Scope Exhibition Hall Lobby – The Scope Ex Hall Lobby is located just inside the mouth of the Scope Parking Garage. Enter the garage, go through the ticket gate, within 15′ look to your RIGHT and see a line of glass doors. There will be signage. Enter one of those doors to get to the auditions. 
**Generic Theater – Enter the Scope Parking Garage. Drive down to the lower parking level. At the end of the ramp you can either turn left or hit a wall. Turn LEFT at the end of the ramp. Drive down until you reach another wall. Again, you can either turn left or hit the wall. Turn LEFT. See the double doors to the theater on your right.
Notes About the Audition
CHARACTER BREAKDOWNS:
MACBETH (30 – 45, male)
LADY MACBETH (30 – 45, female)
BANQUO (30 – 45, male)
FLEANCE (plays 15 y/o, male/female)
MACDUFF (25 – 45, male)
LADY MACDUFF (25 – 45, female)
DUNCAN/DOCTOR/OLD MAN/SIWARD (40  – 50, male)
MALCOLM (20 – 30, male)
DONALBAIN/YOUNG SIWARD (20 – 30, male)
CHILD MACDUFF (plays 10 y/o, male/female)
VARIOUS LORDS (30 – 50, male)
LADY MACBETH ATTENDANT (20 – 60, female)
PORTER (20 – 60, male/female)
MURDERERS/SERVANTS/MESSENGERS (20 – 30, male/female)
THREE WITCHES (20 – 60, male/female)
Please email any questions or concerns to miguelgironajr [at] aol [dot] com.
Break a leg!
Frequently Asked Questions
So you're interested in auditioning and not sure what to expect. Here are some the more common questions we receive. If we do not have the answer to your question here on this website then please send us an email at contact [at] generictheater.org. Remember the most important thing about auditioning at the Generic Theater is that you have Fun.
How do I get the latest details or ask questions?
In the main audition description, there is typically contact information for the director or their designated preferred contact. But the best place to go is our Facebook page. "Like" us for any general updates:
More specifically, there is usually a Facebook event created for each audition, so that is a great place to go and ask questions, which we encourage as the answers will also help other people!
If all else fails, email our main address contact [at] generictheater.org, but be advised occasionally there can be a delay if the team is busy; we're volunteers!
Who can audition?
Ready for this… ANYONE can audition.
Do I need a head shot?
Headshots and resumes are strongly encouraged but not required.
What should I bring?
Most auditions are first come first serve. If pre-registration is an option, it will be noted in the description. Bring your headshot and resume (encouraged but not required), any sheet music for musical auditions, and a list of potential conflicts with you at the determined check-in time.
How do I prepare?
Electronic scripts are sometimes available for you to peruse; check above. If so, this will provide you an opportunity to get to know and understand the character(s) that you wish to audition for. We also encourage you to do a search online to better understand the script, and if you're really serious, buy and read your own copy. Please contact us using the information in the audition notice if you are interested in perusing a copy of the script.
What should I expect?
Toggle content goes here, click edit button to change this text.