Anyone can audition. Check back regularly for updates and new announcements!
WHITE GUY ON THE BUS
by Bruce Graham
presented through arrangement with Dramatists Play Service Inc.
Director: Garney Johnson
Assistant Director: Miguel Girona
Stage Manager: Tina Finnerty
Performance Dates
January 11 through January 27
Performances are Thursdays, Fridays, Saturdays at 8:00pm, and Sunday matinees at 2:30pm
Audition Dates
Rehearsal Schedule
Rehearsals will be scheduled around cast availability with long breaks for holidays. There will be limited amount of rehearsals in November and December, but full cast should be available for daily rehearsals between New Years and the opening night performance on January 11. Rehearsals will be scheduled in the evenings on weekdays (possible Sunday evenings) and some weekend days.
If you have any scheduling conflicts during the rehearsal dates, please note them on your audition form at auditions.
E-mail questions to contact [at] generictheater [dot] org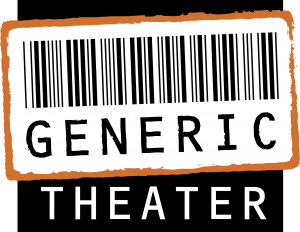 Synopsis
Week after week a wealthy white businessman in Philadelphia rides the same bus, befriending a young single black mother. As they get to know one another, their pasts unfold and tensions rise. igniting a disturbing and crucial exploration of present day race and social class structure.
Preparation
Generic Theater is seeking NON UNION actors to fill all 5 roles (see below).  Headshots and resumes are encouraged but not required.  Be prepared to provide all scheduling conflicts through January 27. Auditions will consist of readings from the script.  If you have questions about the auditions or would like a copy of the audition sides you may contact the director at gjohnson [at] generictheater [dot] org.
See below for role descriptions and sides.
Notes About the Audition
CHARACTER BREAKDOWNS:
RAY (white male, 50s-60s) A successful financier who lives in a dream home with his dream wife, and an underlying sadness.
ROZ (white female, 40s-60s) Ray's devoted and caring wife, dedicated to her work as an inner-city school teacher.
SHATIQUE (black female, 20s) Single mother putting herself through nursing school.
CHRISTOPHER (white male, 20s-30s) An aspiring teacher pursuing his masters degree, he grew up next door to Ray and Roz becoming like the son they never had,
MOLLY (white female, 20s-30s) Christopher's idealistic wife who came from privilege and teaches at a suburban private school, but lives in a city apartment with Christopher.
AUDITION APPOINTMENTS
Everyone is encouraged to email gjohnson [at] generictheater [dot] org to schedule an appointment for an audition on Monday October 24 or Tuesday October 25 starting at 7pm.  Appointments are not required, but will hold priority over walk-in auditions.
Please email any questions or concerns to gjohnson [at] generictheater [dot] org.
Break a leg!
Frequently Asked Questions
So you're interested in auditioning and not sure what to expect. Here are some the more common questions we receive. If we do not have the answer to your question here on this website then please send us an email at contact [at] generictheater.org. Remember the most important thing about auditioning at the Generic Theater is that you have Fun.
How do I get the latest details or ask questions?
In the main audition description, there is typically contact information for the director or their designated preferred contact. But the best place to go is our Facebook page. "Like" us for any general updates:
More specifically, there is usually a Facebook event created for each audition, so that is a great place to go and ask questions, which we encourage as the answers will also help other people!
If all else fails, email our main address contact [at] generictheater.org, but be advised occasionally there can be a delay if the team is busy; we're volunteers!
Who can audition?
Ready for this… ANYONE can audition.
Do I need a head shot?
Headshots and resumes are strongly encouraged but not required.
What should I bring?
Most auditions are first come first serve. If pre-registration is an option, it will be noted in the description. Bring your headshot and resume (encouraged but not required), any sheet music for musical auditions, and a list of potential conflicts with you at the determined check-in time.
How do I prepare?
Electronic scripts are sometimes available for you to peruse; check above. If so, this will provide you an opportunity to get to know and understand the character(s) that you wish to audition for. We also encourage you to do a search online to better understand the script, and if you're really serious, buy and read your own copy. Please contact us using the information in the audition notice if you are interested in perusing a copy of the script.
What should I expect?
On the night of auditions, we ask that you arrive 15 minutes early to give you ample time to complete a short questionnaire. The questionnaire is designed to let our directors get to know you and your acting strengths. Upon completing the questionnaire, you will be asked to wait in a designated waiting area until you are called into the theater to meet the director. The director may choose to speak with you one-on-one or with small groups. You will usually 'cold read' samples taken from the script. You may be asked to read multiple times with different groups of actors. For musicals or plays containing singing, you will be asked to provide a vocal sample; check above for details. Auditions typically run for two days with a third day reserved for call backs, or in some cases for three days with a weekend callback. Call backs require additional readings from the script and may involve other actors. This is a mere guideline into what you may expect during an audition. Auditions are conducted by the director, so dates and times may fluctuate. Please check the website for the current dates and times of the production you wish to participate. The only hard rule we have at the Generic Theater is have FUN.