Anyone can audition. Check back regularly for updates and new announcements!
Hand to God
by Robert Askins
Director: Matt Friedman
Performance Dates
June 22 – July 15, 2018
Performances are Thursdays, Fridays, Saturdays at 8:00pm, and Sunday matinees at 2:30pm
Audition Dates
Rehearsal Schedule
Rehearsals will start mid-April
Rehearsals will be scheduled in the evenings on weekdays and some weekend days.
Not all characters are called for all rehearsals, but actors should be prepared to be available.
Tech week requires all cast and crew the following dates/times:

Wed & Thurs, June 13th & 14th, 7:00pm – 11:00pm
Sun, June 17, 12:00pm – 6:00pm
Mon-Thurs, June 18th-21st, 7:00pm – 11:00pm

Rehearsals will occasionally be off site during traveling shows at Chrysler Hall.
If you have any scheduling conflicts during the rehearsal dates, please note them on your audition form at auditions.
E-mail questions to theatermatt [at] filmtraveler.com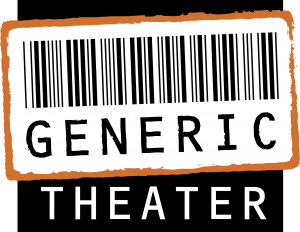 Synopsis
Described as "Sesame Street meets The Exorcist" by The New Yorker, this dark comedy follows the God-fearing children of Cypress, Texas who spend their after-school hours practicing Christian Puppet Ministry at the local church. When one devout young boy discovers that his hand puppet has a life of its own, all hell breaks loose. Literally. In this sidesplitting and lightning-paced comedy, a satanic sock puppet named Tyrone shows the children, minister, and school bully who's really in charge.
Auditionees: Be sure to read the "IMPORTANT AGE NOTE" farther down the page!
Preparation
All roles are open and ALL ETHNICITIES are encouraged to audition! Generic Theater is seeking NON UNION actors to fill roles (see below). Headshots and resumes are encouraged (but not required). Those auditioning are asked to provide all conflicts they may have through July 15, 2018.
What to bring:
Head shots and resumes are encouraged but not required
Auditions will consist of cold readings from the script
Sides will be provided but you can print out and bring your own
If you have questions about the auditions, or want to get a perusal copy of the script, reach out to theatermatt [at] filmtraveler.com.
See below for role descriptions and sides.
Notes from the Director
Hand to God is written to be a hilarious, high-energy, balls-to-the-wall production, and we're not going to soften it. It was written by a bartender named Robert Askins, who–just like the character Jason in the play–actually joined a Lutheran church puppet troupe run by his mother and lost his father at a young age. So it's no surprise his gigantic Broadway hit would be inspired by his own childhood. But in this fictional version, one of the puppets apparently gets possessed by the devil and all bloody Hell breaks loose. Hand to God won several awards Off-Broadway, then went to Broadway and scored five Tony nominations, including Best Play (which it eventually lost to Curious Incident of the Dog in the Nighttime). I was lucky enough to see it on Broadway and it was astonishingly funny and energetic. You think you're sitting down to dine on an edgy-but-overrated new Broadway play, and then it flips the table over into your complacent little lap.
The play has strong language and adult situations (typical Generic show). We need strong actors with a good feel for comedy. We're not handling the material with kid gloves; it's going to be loud and passionate and a blast to perform. Each character in the show is on the edge of some kind of emotional explosion when the puppet Tyrone nudges them over the edge.
Auditions are earlier than usual to allow extra time to memorize the script and get comfortable with puppets. Actors should be off book by the first rehearsal and will have about 2 weeks for that. Line-work opportunities are scheduled before rehearsals begin.
Lastly, here are some pretty good videos about the play to get used to the look and feel and vibe of the show:
Promo video with scene snippets from the Broadway show:
Promo montage for the Off-Broadway original production (which had exactly the same cast & creative team):
Here's a cool look at what two of the actors have to say about the show and its impact on them:
Roles
IMPORTANT AGE NOTE: The "kids" in the show are meant to be played by actors 18 and up due to language and content. The actors could seriously even be in their 30's if they're relatively young-looking and if the adult actors trend older. But let's be frank about it so you know what to expect: the ideal age would be actors in their early 20's who look reasonably youthful, just like the way actors are often cast in TV shows about high schoolers. This way we don't have to worry about those issues of language and content, or creep out the audience. So actors on the younger side (18-20) and the older side (29+) should absolutely still audition and may indeed be cast depending on what we get, but shouldn't feel disappointed if we go with twenty-somethings who are in that age "sweet spot." It's all going to depend on who shows up.
Dialect note: All characters are Texas natives and have a southern twang. Margery has the most distinctive Texas dialect. With the other characters there's more wiggle room and it will depend on what fits the actor & character. Pastor Greg went out of state to divinity school so he probably has the least pronounced dialect.
Margery (30's-early 40's)
Let's just be blunt about it: Margery is what's known as a MILF. She lost her husband 6 months ago and has thrown herself into church life but she really doesn't fit in with the other ladies. Her marriage was unsatisfying, and she's got some real pent-up energy. Lots of it. She's so pent-up, if she were an apartment she'd be a penthouse. If she were a shape she'd be a pentagon. Girl is PENT. She's an energetic little Texan, with a strong accent. Think Holly Hunter. She's a cross between a wounded little bird, and a tornado. She flits around with anxious energy. Since losing her husband, she's lost all sense of who she is and what she wants out of life. So she does what any lost soul would do: starts a puppet troupe. By the way, she is massively sexually repressed.
Favorite TV Show: Kenneth Copeland's "Believer's Voice of Victory"
Favorite Movie: Fifty Shades of Grey
Geneva Carr was nominated for the Best Actress Tony in 2015 for this role. Here are some videos about her, in case you like seeing how the role was originally done.
Here she is in her Tony nomination interview:
Here she is chatting about being a part of the show, in case you missed it above:
Here's her commercial reel for no reason except she's awesome:
Jason (Actor age: teens-early 30's; character age 15)
Jason is a shy, scared, sweet little mama's boy, who is incapable of standing up for himself or properly hitting on his crush Jessica. Inside him, however, is a furious, bewildered, hormonal teen who hates his bullies and can't stand the pressure of being the good boy at church. He secretly resents his father for killing himself, and resents his mother for causing it with her controlling behavior and piety and neediness. Basically, he's a male version of Stephen King's Carrie. Push them too far, and watch hell explode unto the earth.
Not to scare you, but Jason is not an easy role. Jason is not only Jason, but also Tyrone, who speaks in a very different voice, and the actor must bounce back and forth between them, as the puppet is on his hand the entire show. It's sort of like having to play two roles simultaneously. You're going to have to show great comic chops and do an expressive Tyrone puppet. It's gonna be fun. This is an epic role. It's the Hamlet of roles involving a puppet.
Favorite Music: Amy Grant
Favorite Book: Catcher in the Rye
Stephen Boyer was nominated for a Tony for this role, and won a Lucille. Here are some videos about him; for this role in particular it's useful seeing the Jason-Tyrone relationship and how it was originated.
Here he is being interviewed for his Tony nod:
Here he is with Geneva Carr, chatting about being a part of the show, in case you missed it above:
Here's another actor's take on it; an interview with Harry Melling (who played Dudley in Harry Potter), who took over the role for the London production:
Jessica (Actor age: teens-early 30's; character age 15)
Jessica is straightforward and relatively quiet. She's perceptive. She thinks everyone's full of shit but mostly keeps it to herself. She's described in the script as petite and a little clumsy; "a little coltish." Reads a lot. She's good at seeming nice at church so she keeps a lot hidden. Secretly she has a massive rebellious streak and will probably end up being a goth chick or a popular bisexual feminist podcaster at NYU. I'm like 93% certain she's into anime. Nevertheless, she's level-headed and grounds the show, keeping everything from spiraling out of control. Sarah Stiles was also nominated for a Tony for this. There are a lot of different directions we could go with this: a young Christina Ricci, Charlyne Yi from the Judd Apatow movies, a teenage Issa Rae. Whatever works.
Favorite Food: Quinoa with pork sausage
Favorite Music: Rage Against the Machine
Timothy (Actor age: teens-early 30's; character age 16-17)
Timmy is a tortured soul. He has a shitty home life, and has deep feelings but has nowhere to channel them. He could have been Kurt Cobain if he had any talent. Since he doesn't, he became a mouthy bully. He has to have some mischievous charm, though, so there's a part of him that's like the bad boy in a John Hughes movie. Think Charlie Sheen in Ferris Bueller or Judd Nelson in The Breakfast Club. Or maybe Christian Slater in Heathers. Although not that suave; more of a d*ckhead. You know what, f##k it, here's a video.
Favorite Show: Duck Dynasty
Favorite Hobby: Sending dick pics
Pastor Greg (late 30's-40's)
Pastor Greg is a calm, friendly Lutheran who loves his little church and his little flock. The only thing he loves more is Margery. Damn, that woman is fine. For her, he might bend the rules a little. Maybe even attempt an exorcism. He starts out a limp pushover and later shows his strength. Pastor Greg is a "nice guy" and tries to prove it every chance he gets, which is probably why he's single. But nobody knows that in his youth, he got into a lot of fights. Pastor Greg has one of the all-time great cringeworthy monologues, kind of like the phone-call scene in Swingers. It was seriously the highlight of the show for me when I saw it. He also gets to kick Timmy's ass.
Favorite Book: The Velveteen Rabbit
Favorite Movie: Sleepless in Seattle
Frequently Asked Questions
So you're interested in auditioning and not sure what to expect. Here are some the more common questions we receive. If we do not have the answer to your question here on this website then please send us an email at contact [at] generictheater.org. Remember the most important thing about auditioning at the Generic Theater is that you have Fun.
How do I get the latest details or ask questions?
In the main audition description, there is typically contact information for the director or their designated preferred contact. But the best place to go is our Facebook page. "Like" us for any general updates:
More specifically, there is usually a Facebook event created for each audition, so that is a great place to go and ask questions, which we encourage as the answers will also help other people!
If all else fails, email our main address contact [at] generictheater.org, but be advised occasionally there can be a delay if the team is busy; we're volunteers!
Who can audition?
Ready for this… ANYONE can audition.
Do I need a head shot?
Headshots and resumes are strongly encouraged but not required.
What should I bring?
Most auditions are first come first serve. If pre-registration is an option, it will be noted in the description. Bring your headshot and resume (encouraged but not required), any sheet music for musical auditions, and a list of potential conflicts with you at the determined check-in time.
How do I prepare?
Electronic scripts are sometimes available for you to peruse; check above. If so, this will provide you an opportunity to get to know and understand the character(s) that you wish to audition for. We also encourage you to do a search online to better understand the script, and if you're really serious, buy and read your own copy. Please contact us using the information in the audition notice if you are interested in perusing a copy of the script.
What should I expect?
On the night of auditions, we ask that you arrive 15 minutes early to give you ample time to complete a short questionnaire. The questionnaire is designed to let our directors get to know you and your acting strengths. Upon completing the questionnaire, you will be asked to wait in a designated waiting area until you are called into the theater to meet the director. The director may choose to speak with you one-on-one or with small groups. You will usually 'cold read' samples taken from the script. You may be asked to read multiple times with different groups of actors. For musicals or plays containing singing, you will be asked to provide a vocal sample; check above for details. Auditions typically run for two days with a third day reserved for call backs, or in some cases for three days with a weekend callback. Call backs require additional readings from the script and may involve other actors. This is a mere guideline into what you may expect during an audition. Auditions are conducted by the director, so dates and times may fluctuate. Please check the website for the current dates and times of the production you wish to participate. The only hard rule we have at the Generic Theater is have FUN.